Presiden Kritik Tayangan Televisi Menjelekkan Bangsa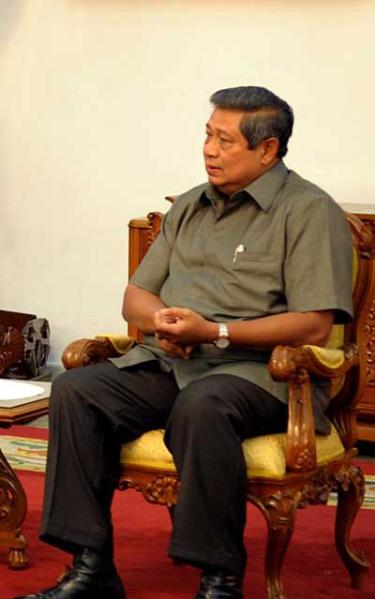 Jakarta (ANTARA) - Presiden Susilo Bambang Yudhoyono mengkritik tayangan televisi yang lebih suka menjelek-jelekkan bangsa sendiri dan tidak berimbang antara mengangkat berita yang baik dan buruk.
Dalam sambutannya pada peresmian pemancar digital TVRI di Auditorium Gedung TVRI, Jakarta, Selasa, Presiden membandingkan siaran televisi di Indonesia dengan televisi negara lain.
"Saya sering menonton televisi yang dimiliki negara-negara sahabat. Silahkan sekali-sekali lihat, daripada saya cerita lebih baik lihat sendiri. Rasanya tidak terlalu suka mereka menjelek-jelekkan bangsanya sendiri," tuturnya.
Presiden mengaku mengerti bahwa bagaimana pun media massa ingin bersikap netral dan memiliki idealisme namun selalu saja menyimpan keberpihakan.
"Saya ingin menjadi manusia yang realistik, televisi atau media massa bagaimana pun meski ada idealisme pers selalu ada posisi selalu ada keberpihakan. Saya tahu mungkin politik, kepentingan manajemen. Tidak apa-apa demokrasi memang begitu. Yang penting jangan sangat berlebihan," tuturnya.
Presiden mengingatkan rakyat sudah cerdas sehingga apabila pemberitaan dilakukan secara berlebihan apalagi vulgar maka rakyat tidak akan menyukainya.
Kepala Negara pun mengingatkan agar TVRI sebagai Lembaga Penyiaran Publik (LPP) selalu berimbang sehingga dengan demikian rakyat mendapatkan kebenaran.
Presiden pun mengapresiasi TVRI yang tetap bertekad menjaga komitmen untuk menjaga netralitas, indepedensi dan tidak komersial sebagai konsekuensi dari LPP.
"Tentu tantangan tersebut tidak mudah untuk dijawab TVRI tetapi itu adalah komitmen untuk diwujudkan dan dicapai," ujarnya.
Sementara itu Direktur Utama TVRI Immas Sunarya dalam sambutannya meminta perhatian Presiden agar televisi nasional tersebut memperoleh anggaran lebih besar.
Menurut Immas, saat ini anggaran TVRI Rp500 miliar dan untuk memberikan pelayanan terbaik TVRI membutuhkan biaya Rp1,5 triliun per tahun.
Presiden dalam pidatonya berjanji untuk secara bertahap sesuai kemampuan negara menaikkan anggaran sampai lebih sesuai dengan yang diharapkan oleh TVRI.
The Godfather





Posts :

642


Credits :

1395


Reputation :

26


City :

Jakarta


Browser :





ya mau gimana lagi..
tayangannya setipe semua..
makanya g perna nonton tv
______________________
Magnificent Mod





Posts :

65


Credits :

2572


Reputation :

6


City :

SEPGR//Denpasar//Bali


Browser :





miris ane liatnya bro.
The Godfather





Posts :

642


Credits :

1395


Reputation :

26


City :

Jakarta


Browser :





mending nonton kartun dari pada ngurusin gini2an..
apa gak nonton bola..
Fixy-Fact Activist





Posts :

571


Credits :

844


Reputation :

82


City :

in your dreams!


Browser :






---
Permissions in this forum:
You
cannot
reply to topics in this forum